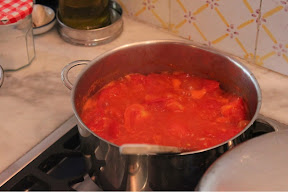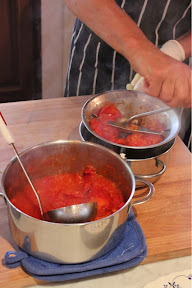 Our hosts Bilgae and Fabrizio invited us to lunch last Friday and told me I could come early since I'd expressed an interest in learning to make homemade tomato sauce. I'll need a few new tools, but otherwise the process seems replicable. We'll see!
We had a little time to kill while the tomatoes were simmering, so Bilgae gave me a tour of their home. They have lived all over the world: Italy, Turkey, Switzerland, Rwanda, Ethiopia, the U.S. Most of the time it was for work they've done with UNICEF. And their home is full of the most beautiful artifacts. There was an Ethiopian tryptic that illustrated every major scene from the Bible, which Bilgae says they will donate back to the country's national museum someday. It's that amazing.
Scott and I agreed that Friday was one of our favorite days in Italy so far, and we didn't even have to get out the map and go anywhere.