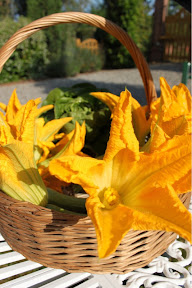 I spotted this outside our window yesterday morning while I was still in my pajamas. I knew the caretaker Salvatore left it there because I had seen him heading out to the garden with the empty basket earlier. He was across the way visiting with the farmer next door, so I told Scott I was going to throw on some clothes and sneak down to get some pictures of the beautiful arrangement before he came back.
Mid shoot, I heard gravel crunching underfoot from the other side of the bay laurel hedge and knew he was returning. I hurried to get a couple more pics and started trying to figure out a way to explain myself to him in Italian, but he surprised me by gesturing that he'd made the basket for us. He then skillfully mimed that I should take the flowers and fry them up to eat. That's when it finally dawned on me that they were zucchini flowers. Our host had just been telling us the day before to make sure we tried the delicacy before their short season was over.
It was such an unexpected and pure act of kindness that I found myself crying before I could even make it up the stairs back to our apartment.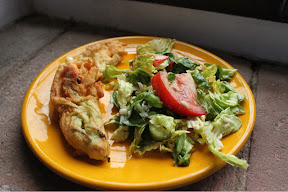 I gave myself a Google education on how to prepare them, and we enjoyed my respectable rookie attempt for lunch with a salad made from the lettuce Salvatore pulled for us too.